Gentlemen, this is a very long story which I will attempt to abrevieate for everyones sanity.
About 8 or 9 years ago, I purchased what was advertised as a Colt 2nd Generation Martial 1851 Navy. The seller was Collectors Firearms out of Texas with whom I have had numerous excellent purchases. I could not find the Martial model listed in Adler's book, but the photos looked great, and I knew I could return it with no issues. I was looking for an unabused shooter, so the fact that it did not have a box or papers didn't matter to me. The pistol arrived in due time, and I eagerly opened the box to view my prize. After a few seconds of admiring the perfect polishing and blueing, the old red flags started waving. This most certainly was NOT a second gen. Colt product. I have had a number of the 2nd Gen pistols and this looked nothing like them. The address was not one that Colt used in the 2nd or 3rd generation products.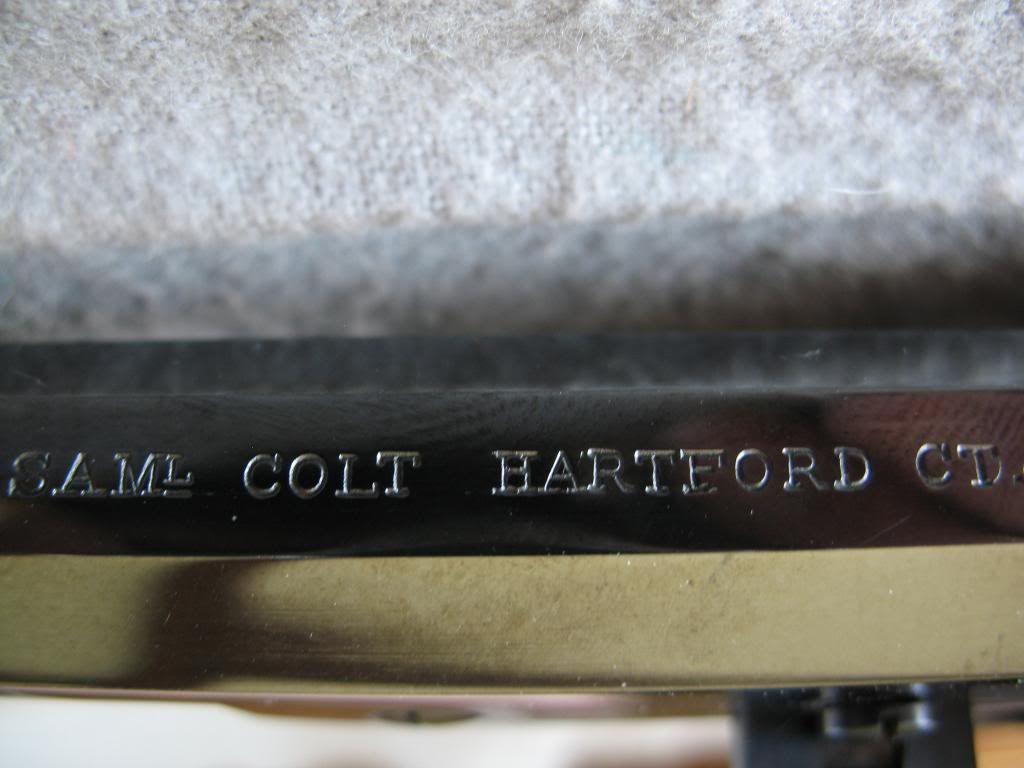 The finish was very high polish, with absolutely no overruns or welling around holes or loss of sharpness in the edges. An amazing and expert job every where I could look. I am a good judge of metal work (former QA guy for Shiloh Rifle Co. 16yrs) and whoever did the metalwork was "top shelf". I carefully disassembled the pistol to see if I could find any markings or a signature stamp. What I found was that the pistol has no areas that show evidence of casting. All internal surfaces are filed, polished, or milled. There are inspectors stamps in places that don't show without disassembling the pistol (in the cut for the loading lever pivot under the barrel, on the standing breech of the receiver, on the underside of the cylinder pin) Most exhibit "proud" metal around the stamps. I grabbed my copy of Swayze's book on '51 Navies, and began to dissect the pistol piece by piece. After a few days of research, I think what I have is a very good condition original Navy/Navy with an almost flawless restoration job or... an outright, full on fake, made of one or more original Colt 1851s melded together by some master restorer to produce a very rare M1851 variation ( a small iron guard, early "late model" Navy/Navy). I know by actual comparison, that the cylinder scene is the one produced from the roll die that belonged to Tom Haas Sr. and used in his shops restorations.
Plate 49 on page 90 of Swayze's shows his Navy/Navy ser. # 89851. Mine is #89852....Hhmmm...pretty remarkable coincidence.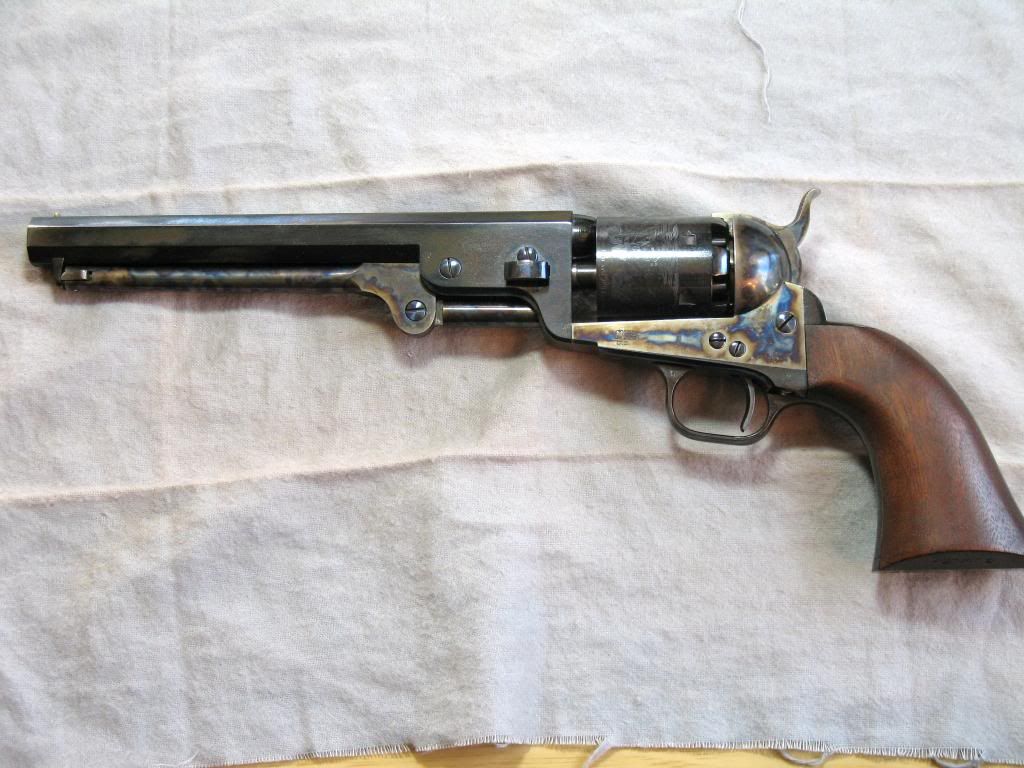 One more.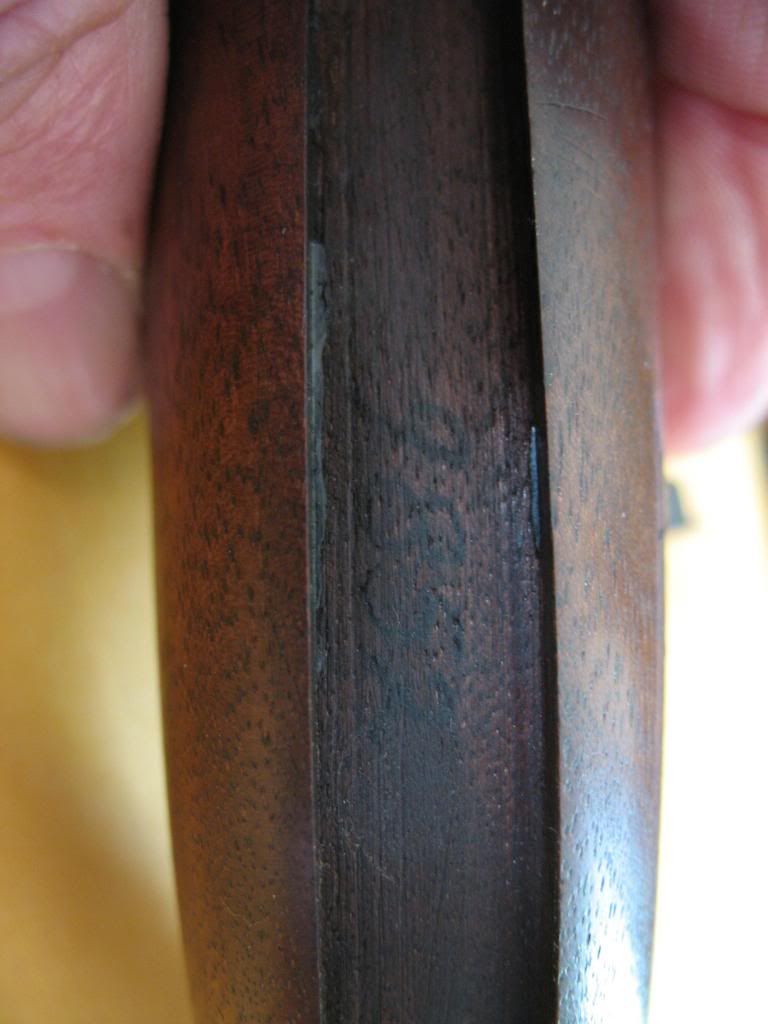 I called Collectors, as I was sure it was worth a lot more than the 2nd Generation Colt I thought I was buying. They really weren't interested in it, and only told me that I could return it if I wasn't satisfied.....I was so intrigued by it, I decided to keep it.
I have no idea what it is worth, but would sure like to hear some opinions from the forum.
I had originally discussed this pistol on another forum back in 2009, but had no way to post pictures. I see some of the same usernames here, so I apologize to Steg and a few others for dredging this subject up again. If anyone needs other photos of specific parts, I have taken hundreds of this pistol that I could share
Thanks for any and all comments
Tom W.
(sorry my photos are so big....I'm still learning...)