This was originally posted on another forum years ago and subsequently lost. It was found again within an old email reply from 2007, sent by a correspondent to whom I'd previously sent a copy. It comes back to life with additional new data.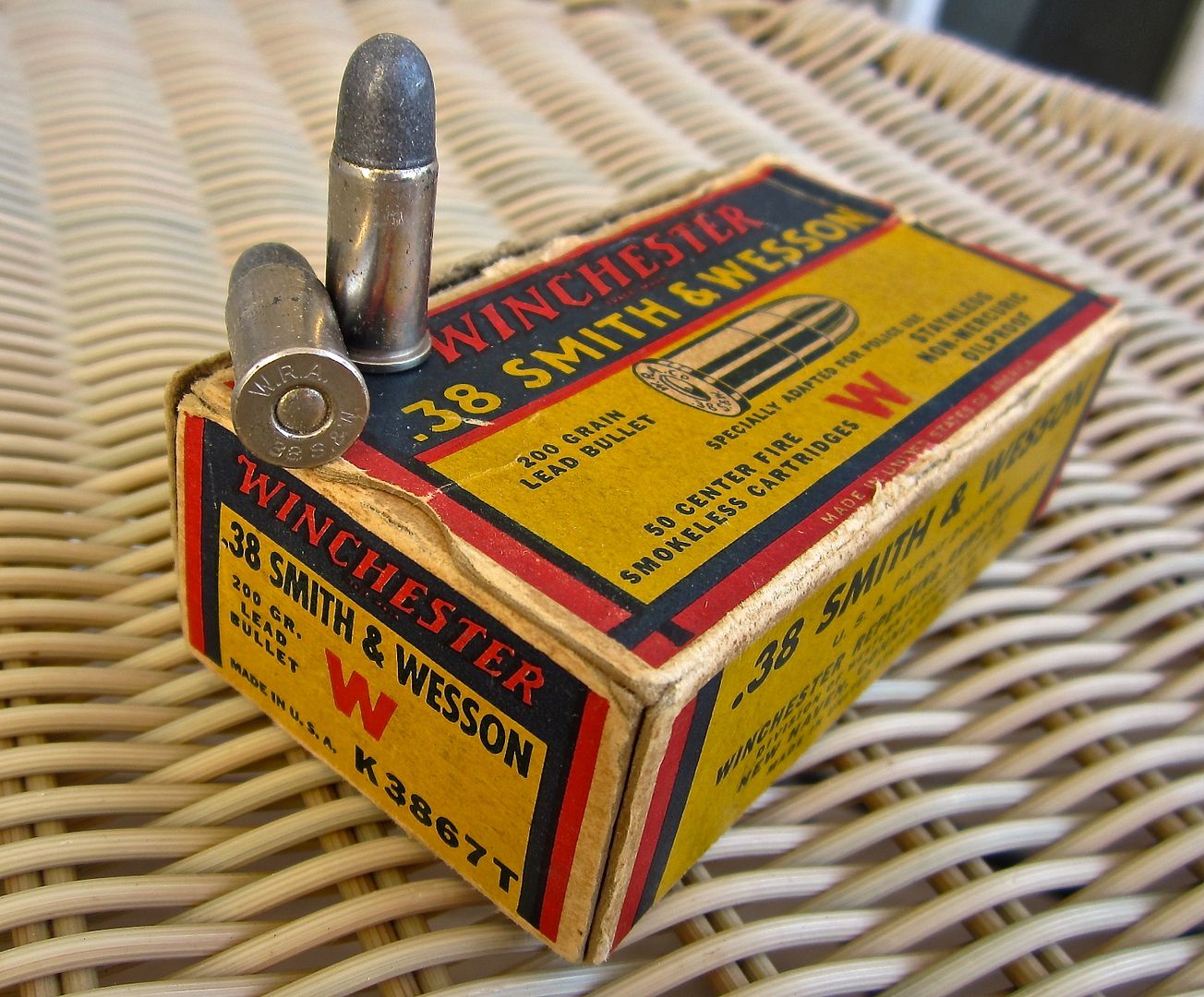 An ancient handgun cartridge, the .38 S&W was developed, surprisingly enough, by Smith & Wesson in 1875 and first marketed in their .38 Single Action First Model, a top-break, spur trigger revolver. It proved to be a very popular round in its heyday, being featured in revolvers both of quality make and in the inexpensive suicide specials. This popularity didn't wane to any significant degree until after World War II. Originally charged with black powder, it easily survived the transition to smokeless powder with its popularity intact. Colt appropriated the design, naming their version the .38 New Police. The British military establishment embraced it as the .38/200, loading it with an abnormally heavy 200 grain bullet and pronouncing it to be equal in effectiveness to the .455 Webley. Saying it's so doesn't make it so, but the Empire made use of the cartridge for the next 32 years.
Until recent years countless thousands of top break .38 S&W revolvers lurked in bureau drawers and on closet shelves. I am of the opinion that most of these may be now found lurking at the next Dallas Market Hall Gun Show or a show nearest you. The twentieth century saw some really nice .38 S&W revolvers brought out that still could serve as a collectible shooter, historical military curiosity, or could even be pressed into service as a close-in defense weapon.
Performance? Not the Worst Handgun One Could Be Stuck With.
The Baltimore City Police apparently though enough of the .38 S&W to arm its policemen with the aforementioned Smith & Wesson Single Action First Model, which served them from 1876 until 1917.
The stubby .38 is roundly sneered at by all who even bother to comment on it. Modern factory loads as provided by Remington and Winchester are anemic out of concerns that certain reckless elements in the gun fraternity (like your author) will fire their product in the many weak, black powder era, top break revolvers. This practice has been warned against for years. I'll be frank. I have never heard of anyone blowing himself up firing the suicide specials, however I'll add my caution to refrain from firing them too. Bits of iron in one's head are an unnecessary impediment to good health and the wrong way to get one's daily allowance. For myself, I enjoyed the use of a Smith & Wesson .38 Double Action Second Model for some years, the factory letter of which indicated it was shipped to Simmons Hardware, Chicago, Illinois in 1882. This was a spunky little revolver. The trigger pull, both single and double action, was much heavier than a modern product from that firm. It stayed tight for the years that I owned it, probably firing 5 or 6 boxes of ammo during that time. It was my first small concealable handgun and I used to carry it when arrowhead hunting or fishing. It proved handy to dispatch a copperhead snake on one occasion.
I would feel about as well armed with a .38 S&W revolver as with a .380 auto. The best way to utilize it would be as a "face gun". One might look at the .38 S&W revolver as "fists in an aerosol can." It'd be easier and safer to "spray" one's assailant in the face with some .38 lead than to close with him in order to throw a punch. The slugs are relatively heavy at 146 grains and most loads I've encountered contain bullets of very soft lead. The blow inflicted by such a bullet at short range would be distressing to say the least and very likely disabling as well.
A "high performance" option for the .38 S&W owner would be the 200 grain lead round nosed bullet. I obtained a quantity of old Western 200 grain copper plated factory loads a few years ago. These were much more impressive than current factory fodder and were wonderfully accurate in my Webley Mark IV. Unfortunately they are no longer manufactured.
A "low performance" load is the similar, yet very slightly smaller in diameter, .38 Short Colt. This load can be used in revolvers chambered for .38 S&W but there is no particular advantage in doing so. Featuring a 125 grain bullet, it stumbles from the barrel with all the velocity that could be provided by a wrist rocket sling shot.
The .38 S&W shown with the .38 Short Colt.
In some of the relatively modern solid frame revolvers the .38 S& W could be improved by judicious handloading. I would willingly use such handloads in the British military top break revolvers such as the Webley or the Enfield or the 20th century solid frame swing-out cylinder models of Colt or Smith & Wesson make. Of course one will carefully work up any handloads in any .38 S&W or for that matter any firearm, won't one?
The .38 S&W doesn't share the .38 Special's dimensions being slightly larger in diameter. The .38 S&W bullet has a diameter of .359 -.360 and a case diameter of .386. The .38 Special's bullet diameter runs .357 and the case is .379. Sometimes the .38 S&W may be chambered in .38 Special guns and may be fired in perfect safety. Sometimes they won't quite fit and forcing the issue will result in a stuck cartridge and the need to find something to prod them out of the cylinder.
The Inevitable Ballistics Chart
2-inch barrel
146 grain factory load 728 fps
200 grain factory load 737 fps
125 grain.38 Short Colt load 610 fps
British military 178 grain load (published data) 630 fps
Handload 158 grain lead SWC/Unique 739 fps
Two manufacturers who still load .38 S&W are Remington and Winchester. Buffalo Bore has only recently added a rather peppy loading of .38 S&W to their high-performance cartridge line-up, a 125 grain lead semi-wadcutter with an advertised velocity of 1000 fps. While it's hard to imagine a company taking up the .38 S&W at this late date, I applaud their efforts and intend to get enough of this ammunition to conduct tests.
www.buffalobore.com/index.php?l=product_detail&p=350
I have two revolvers chambered for the .38 S&W, a Colt Bankers' Special snub and a Webley Mark IV with the standard 5 inch barrel. Both reliably and eagerly function with all loads I've fired. The Webley is quite accurate but requires the heavy 200 grain bullets to impact the target in accordance with the sight picture. Brought out in 1927, the Banker's Special must have been marketed to wimpy bankers who could not manage the recoil of the Detective Special taking the .38 Special cartridge, which was also brought out by Colt about the same time. The Banker's Special, which was built on the Police Positive frame, was also marketed in .22 for the sissiest of bankers. The .22 variation is quite scarce.
Should You Shoot Yours?
Good, usable revolvers in .38 S&W include:
British military top-break revolvers
Enfield (some mfg'd at Albion Cycle Works)
Webley Mk IV
Smith & Wesson models
Perfected Model (S&W's last top break design)
.38 S&W chambered Victory, Military & Police (WWII British contract revolvers)
Regulation Police
Terrier
Model 11 (fat chance of finding one)
Model 32
Model 33
Colt models
New Police
Police Positive
Bankers' Special
Detective Special (some few were made in .38 S&W)
Official Police (a few produced on the eve of WW II for a British contract)
Model 1873 Single Action Army (Yeah, you saw right - a few were so chambered)
MODERN Harrington & Richardson top break models
Model 925/935 Defender (mfg'd from 1964 to1986-stay away from 19th century H&R's)
Though I would shoot the 19th century Smith & Wesson break-open revolver to a limited extent I can't recommend it to the Forum readership. Any other brand (and there are jillions of names) of these break-open revolvers should be retired to a display case. This includes the Belgian or other Continental European makes.
This modest cartridge may not be on the cutting edge of handgun technology but it played its own part in taming the American West and was in wide use throughout the world in bygone times. I confess to wishing that a few updated loads would be introduced for it but consider myself lucky that it is still loaded at all. If one owns a revolver chambered for the .38 S&W, give it some range time. Just for fun.