There are several kinds of case hardening. In very simple terms it is adding a hardened skin to a soft low carbon steel.
Case-hardening involves packing the low-carbon iron within a substance high in carbon, then heating this pack to encourage carbon migration into the surface of the iron. This forms a thin surface layer of higher carbon steel, with the carbon content gradually decreasing deeper from the surface. The resulting product combines much of the toughness of a low-carbon steel core, with the hardness and wear resistance of the outer high-carbon steel.
​
Colt uses a traditional method far as I know but they do change things around a lot so who really knows? I have begun to wonder when you see the distinct change in colors on Colts' work. You can see every thing from the more obvious traditional work of Doug Turnbull to stuff that could easily be just another case hardening process ( salt bath? ) that was used.
a well used Colt from 1973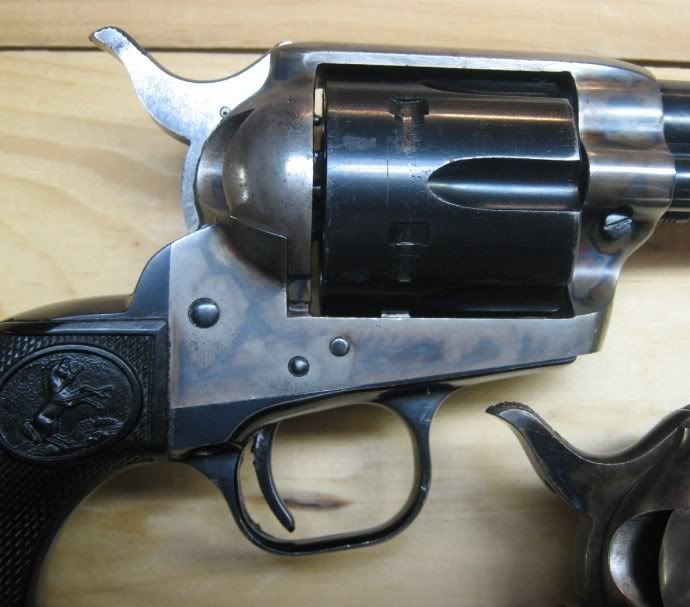 Colt has traditionally used this method:
The traditional method of applying the carbon to the surface of the iron involved packing the iron in a mixture of ground bone
and charcoal
or a combination of leather, hooves, salt and urine,
all inside a well-sealed box. This carburizing package is then heated to a high temperature but still under the melting point of the iron and left at that temperature for a length of time. The longer the package is held at the high temperature, the deeper the carbon will diffuse into the surface.


The resulting case-hardened part may show distinct surface discoloration, if the carbon material is mixed organic matter as described above. The steel darkens significantly, and shows a mottled pattern of black, blue, and purple caused by the various compounds formed from impurities in the bone and charcoal. This oxide surface works similarly to bluing, providing a degree of corrosion resistance, as well as an attractive finish. Case colouring refers to this pattern and is commonly encountered as a decorative finish on firearms.
Case-hardened steel combines extreme hardness and extreme toughness, something which is not readily matched by homogeneous alloys since hard steel alone tends to be brittle.

A used, but newer Cimarron. Uberti uses a true case hardening, salt bath, process described below. I've long seen the salt bath process described as a "chemical process".....implying it is not a case hardening which is not only misleading but untrue. In fact the salt bath gives a harder outer skin than bone and meal case does, just not the bright colors. When you look further there actually might be some advantages to the shooter and manufacturing costs to the salt bath over the bone and meal version.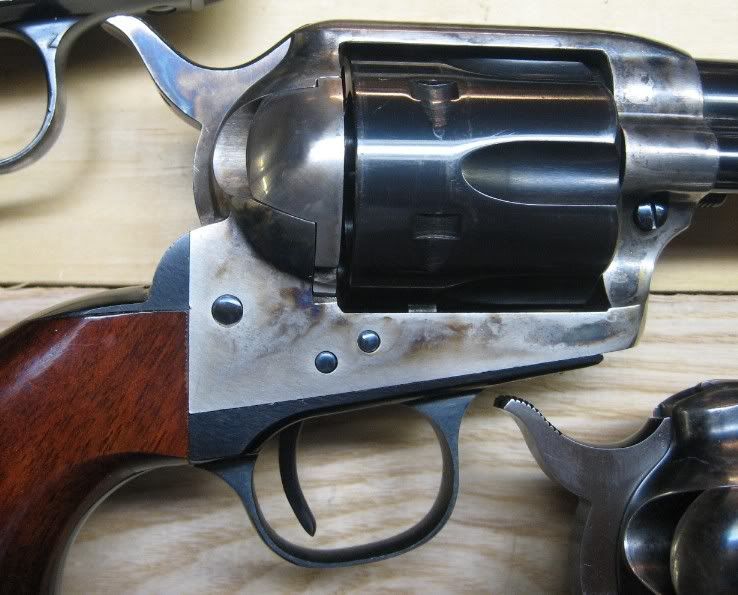 Another process that is used on the SAA guns is a "salt bath". After seeing the process being done and the end result close up on more than a dozen guns I began to wonder and do some research.

This process is clearly seen in the Uberti video at 2:20


​
https://www.bing.com/videos/search?q=making+a+uberti&view=detail&mid=6DE2C4F8839BFA85345C6DE2C4F8839BFA85345C&FORM=VIRE
​
Cyaniding ( salt bath of sodium cyanide ) is a case-hardening process that is fast and efficient; it is mainly used on low-carbon steels. The part is heated to 871-954 °C (1600-1750 °F) in a bath of sodium cyanide and then is quenched and rinsed, in water or oil, to remove any residual cyanide.
This process produces a thin, hard shell (between 0.25 - 0.75 mm, 0.01 and 0.03 inches) that is harder than the one produced by carburizing, and can be completed in 20 to 30 minutes compared to several hours so the parts have less opportunity to become distorted. (which answers a few more questions for me on "consistent production".)



Then there is Ruger's version that is now discontinued and I don't believe was ever a hardening process but only cosmetic.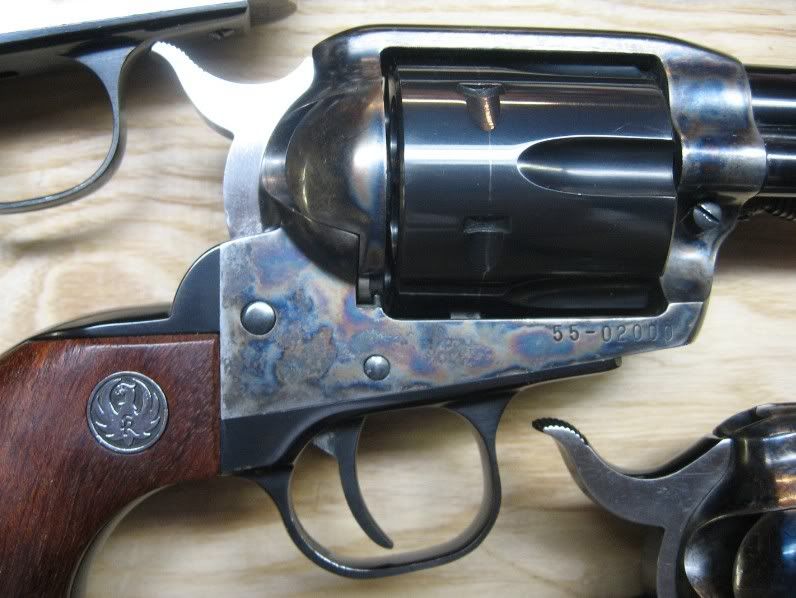 (photos came from the Ruger forum without the author's permission)

I'm lookin for information on how these processes compare in actual use. Please feel free to add your thoughts and knowledge to the conversation.

​