This started with a posting on this forum a few years ago, someone showed the top picture asking advice what to do with it. I watched it a few days and the concensus was to part it out. It had the old barrel & cylinder with it & had new 1950s Vintage Colt barrel, cylinder & innards, with busted plastic grips. At that point I suggested it could have a value as-is of $800 or a future may $2K as a rebuilt Artillery. The thread moved on & couple weeks later the owner sent me a PM saying since I was the only one who showed interest, I could have it for $530, shipped -- so I bought it.
Middle is the configuration I gave it as a semi-Artillery, I toned the finish & made a believable one piece grip. The finish took some doing because it had been metalized with aluminum, a molten metal spray-on procedure from the '50s, but it scraped off, just tedious doing it. In the inset the aluminum can be seen on the barrel, along with a close-up of the US mark on the frame.
Below is its final present configuration with a 1901 grip group.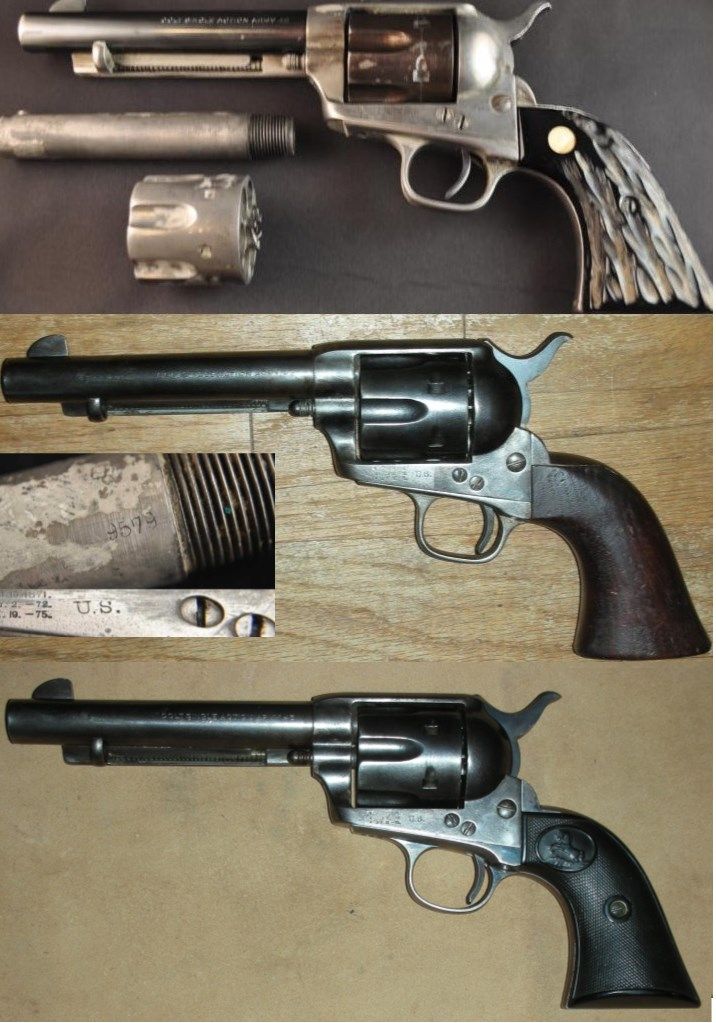 The interesting part for me started with discovering the original cylinder was Ainsley marked and I sacrificed for $300, bringing my money in the project down to $230 from the original 530. Then I was unable to refuse a trade of a 1901 grip group about 60% finish plus $500, for my original grip group with 3 & 4 digit numbers. Now I have a homogenized SAA with a perfect bore, old US frame, new '50s innards for no cost to me and couple hundred in my pocket.
My activities in the SAA thru New Service & pre-1911s era have been entirely in buying to restore and/or assemble from parts I collected, never sold off or traded any. This Artillery event started with the offer I couldn't refuse & since it was already compromised I decided to take it or follow wherever it went, possibly to the dismay of Colt purists. The end result is my remaining piece, a semi modern assembly on an early US military frame maybe worth the $800 I guestimated at first. Somewhere out there are two persons happy getting some authentic parts to complete their Artillery projects.