Counterfeit "NIB" Python Hall Of Fame Induction - Python Target For The Ages
I must admit that this one bothers me. I happen to have an originally owned, NIB, nickel Python Target, with Provenance that I feel fortunate to have acquired. These Pythons, in original packaging, don't come around every day, unless of course there is someone that dilutes the market with bogus original Pythons like the one here. This one will sell for more than $4500, and the lucky seller will have pocketed about $2500 because he enjoys a 100% Feedback Score and has found a naive buyer that believes he is acquiring a Like-New-In-Box, Nickel Python Target. This is the seller's "game" and he plays it better than most. Flowery, expansive baloney that must be read for a good laugh. Yet, the mark has been found. I don't particularly care that some uninformed, lazy bidder will end up with a Python and a poke for $4500. It bothers me that for some short period of time, the buyer will believe he owns a LNIB Colt. They just aren't that easy to come by.
By the way, there is nothing original in the auction except the Python.
Colt Python Target Nickel 38 Spcl 8? w BoxPaper*NR : Revolvers at GunBroker.com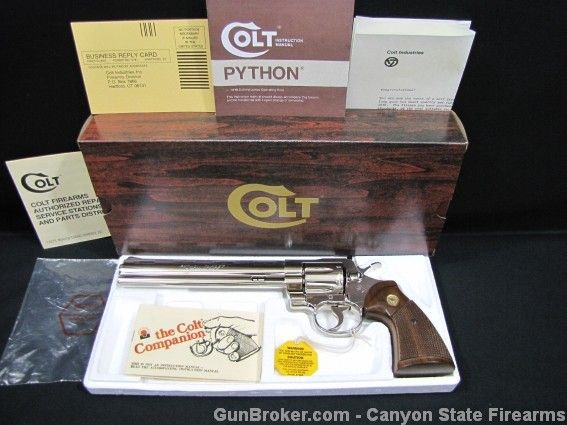 *****