Discussion Starter
•
#1
•
I've been doing a ton of reading here as a newbie to this site, and I've noticed a lot of historical firearm analysis hinging on the quality of the photos presented. I do a fair bit of photography in my spare time, so I thought I'd share a little info on how to get some really nice photos without spending an arm and a leg. I've been meaning to post this for a long time now, and I think this is a good place to do it. For the experts out there, this is nothing new to you, but feel free to share your personal equipment suggestions or techniques. My other goal is to provide a bunch of links to some gear, so you don't have to go searching around and get overloaded with options (I am not affiliated with any manufacturer or dealer). Anything I link to can usually be found multiple places on the web. Hopefully, this will enable people to get some great photos uploaded so the forum membership can tell them with some degree of confidence that their gun show find is worth a million bucks.
First of all, everything will be easier if you have a DSLR of some sort. Brand, model, age, etc. doesn't really matter. If you have a point-and-shoot, there are some things you can use, also, but consider upgrading if you want to post a lot of photos of your toys. These days, ebay and Craigslist are flooded with people getting rid of perfectly good DSLRs so they can upgrade to the latest whiz-bang camera body. A 2-3-year-old DSLR will do almost everything you need, and can usually be had for the price of a decent point-and-shoot. If you need a lens, a fixed 35mm or 50mm is usually less than $200.
HERE
is a search result for "50mm 1.8 lens" on B&H Photo. People also sell "kit lenses" (what comes with a new camera) for next to nothing. For documentation-type photos of your guns, you'll be shooting at settings that work well with even the crappiest of lenses, so snap up those cheap castoffs. Pawn shops have lots of these cheaper lenses, also. If you want to get really artsy with your photos, you're going to want something nicer, but that's another subject for another time...
So here's a photo of a Commando:
The best light for these things is soft and even, and a little directional. You want to have some fill on the shadows, and still get some contrast on details like roll marks. Here's what I used to light the shot: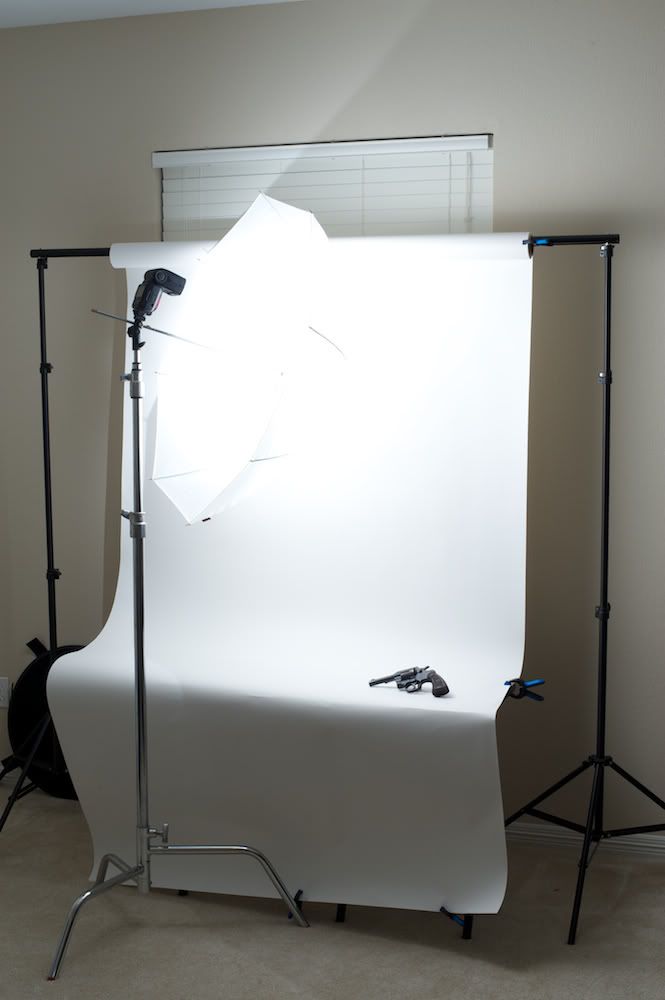 The umbrella gets us that soft, even, directional light. I shoot Nikon, so I'm using a Nikon strobe, commonly called a speedlight. You can use almost any speedlight for this, however.
HERE
is one made by Vivitar. You can find these things used on the web or at pawn shops for cheap, also. You'll need to mount it to a stand with an adapter that allows you to use the umbrella.
HERE
is a kit with a stand, adapter, and umbrella. My Nikon system allows me to fire the flash remotely, but there are
ADAPTER CABLES
to do the same thing with almost any brand of flash or camera. Remember, the key is to get that light off the camera, so you can use it to highlight the features you want in your subject. Lighting from an angle especially helps to show off the markings that make such a big difference when evaluating a firearm. Also, if your light comes from right on your camera, you frequently get nasty reflections that obscure detail.
My background is just a roll of
WHITE PAPER
. You can get it in 26", 53", or 107" widths. Mine is 53" and I also keep a roll of black and grey handy. Here's an example on the grey (sorry, not Colt!):
The paper is supported by a
BACKGROUND STAND
made for this sort of thing, but you can stretch the paper over just about anything. The 26" rolls are pretty easy to manage. Don't forget that there is frequently a CBL (Carbon-Based Lightstand) standing around who can help you hold stuff.
You'll want to use a table top or something similar to elevate the operation up to a decent work height. Believe me, the floor looks tempting sometimes, but it will come back to haunt you (and your knees). I use some cheap
TV TRAYS
from Target. You get 4, so they can be arranged however you need.
I also use some cheap spring clamps from the hardware store to hold everything in place (no link on these - they're everywhere), and to weigh down the end of the paper. It likes to curl and it'll make you hate life if you don't tie it down somehow.
For people with a point-and-shoot, you can still use a lot of the same equipment, except for the strobe. You can get a
FIXTURE
from Lowe's and one of these
DAYLIGHT-BALANCED FLUORESCENTS
, and use the umbrella to diffuse the light. It's not near as bright as a strobe, but it's better than using the built-in flash.
So that's pretty much all you need equipment-wise. For camera settings, if you're unfamiliar with exposure control, I strongly suggest you buy and read this book first:
UNDERSTANDING EXPOSURE
I'll explain my process, but it probably won't make any sense if you don't read that book or have some prior experience. Number one - always work in manual mode. If I'm working where the sun isn't a factor in my photo (indoors, at night, etc.), I generally start with the lowest possible ISO, set aperture between f/8 and f/16, and crank up my strobe power until the exposure looks good. Shutter speeds under 1/250 or so (check your camera's sync speed) don't have any effect on flash exposures, so don't fret about that. If your speedlight doesn't have a fine enough adjustment to get the exposure just right, make adjustments using your aperture. Try not to raise ISO until you absolutely have to, so you can keep visible noise down to a minimum.
That should be a good start. I added up everything based on getting a Nikon D70s body for $250 and a 50mm f/1.8 lens for $100. The grand total is about $550 without the background stand. Not too shabby, and you can probably find more uses for the equipment than just gun pictures.
I'm adding a couple of other photos here just to show the different effects you can get by just changing your lighting. All of the exposure settings are the same as the above photo of the Commando. I've done away with the speedlight and fired up the big guns on these, but they can be duplicated with less expensive equipment. Notice the difference in the appearance of the surface finish and color on the grips. There are areas that may look great with one type of lighting, but lousy with another. Fine detail like machining marks can be hidden or emphasized at will if you know what you're doing.
Compare the finish above the grip to the first photo - it looks much rougher here.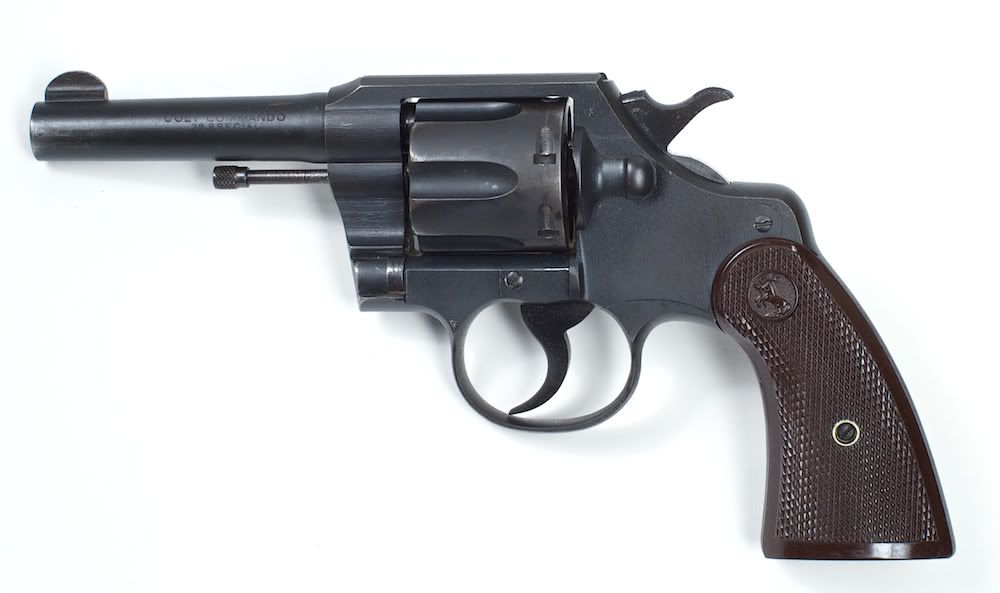 The setup:
Another shot - notice the turn line is gone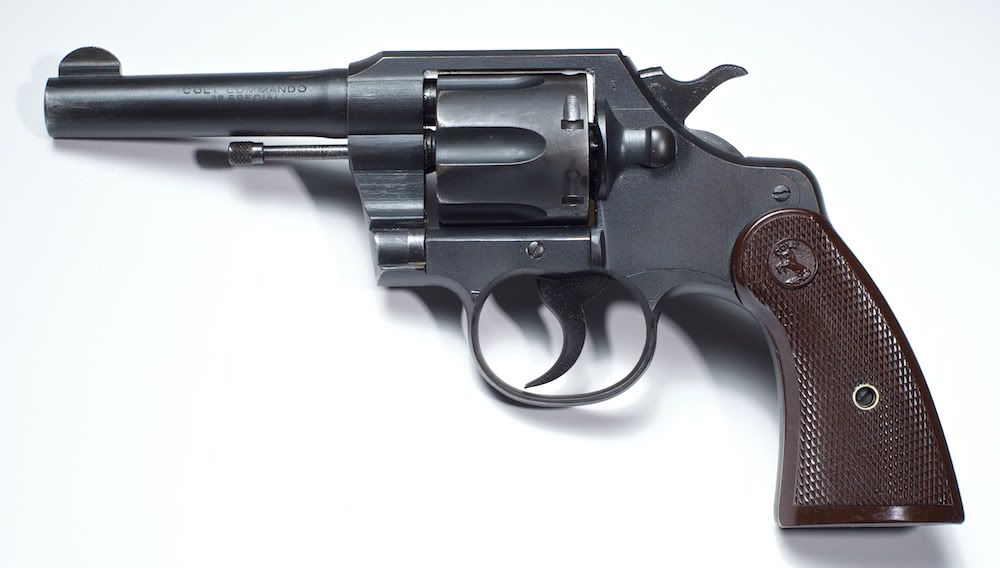 Setup: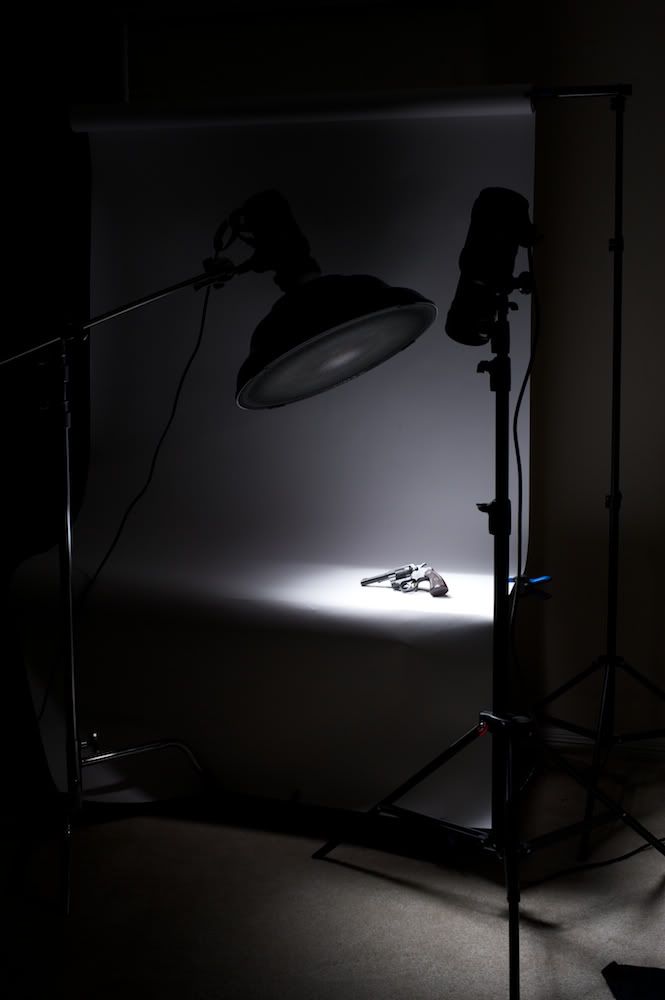 So there you go! I hope some of my blabbering can be of use!