Discussion Starter
·
#1
·
"It's The Label, Stupid!" or "How I Stopped Worrying, and Learn To Love NIB Colts"
I first look for the label. It is the label that causes so much difficulty for the counterfeiters. It is the label that is so hard to replicate.
Here is a Bright Stainless Python currently on Gun Broker. It looks like a nice Python and may very well be a Bright Stainless Python. This one is pretty easy to figure out and all one needs are a few photos of known originals or perhaps a few known originals in your safe. Ask yourself if Pythons in this serial number range were packaged in the foam-lined blue plastic case, with label affixed directly on the case (as this one is)? This is the only question you need to ask to know it is a fake. But if you wanted to inquire further, compare the lettering and numbering to your known originals, or your photos of known originals. Are they in the same font style and size? Are the proportions of the lettering, numbering, bar codes and Colt logo, the same as your known originals? You might hear others tell you that Colt used a "bunch of different labels with different style lettering and numbering" and I might be inclined to accept this, if they could show me a single example. But they never have, and I have never seen such a thing with the labeling on the blue plastic case.
Colt Python 4" Bright Stainless New in Box : Revolvers at GunBroker.com
The next one is a 3" Nickel Python, which recently sold on Gun Broker. Maybe the buyer knew what he was getting into, maybe not. But what he did get was a refinished nickel python which happened to have 3" barrel, which the seller claimed was "flawless, collector grade with original box". This one too, is pretty easy to discern and I think most would agree that they have never seen a label quite like it. The lesson for me is that these crafty counterfeiters want your hard earned money and they don't care how they get it. If the label isn't convincing, then dig deeper and ask; in what serial number range did Colt produce its
standard
3" Pythons. With serial number T70135, this one is several years off, as all the authentic 3" standard production guns that I am aware were packaged in a different Colt box and carried a different prefix.
3" Colt Nickel Python-Flawless- Absolute Auction : Revolvers at GunBroker.com
We have recently seen fake Colt "picture" box outer sleeves with an option to buy a fake label. Naturally, we then have seen these fake "picture" boxes used in bogus "NIB" packages with several Colt models. Here are a couple of fake Anaconda labels.
This one, like so many, is easily recognized because it is not packaged in the correct box. We know that Anacondas in this serial number range were packaged in the blue plastic case, with label affixed directly to the case. They were not shipped from Colt in this style packaging.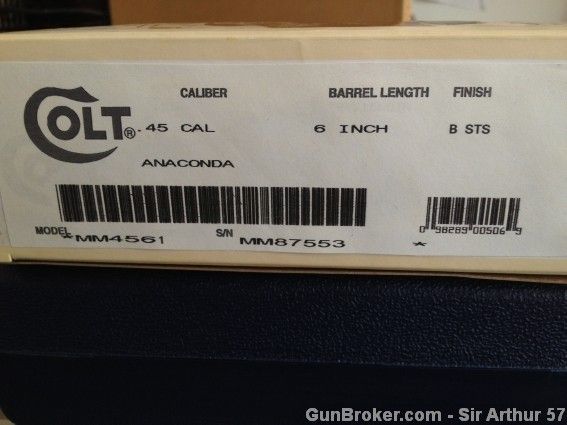 I believe this label is the one that can be purchased as an option with the fake Colt "picture" box outer sleeve. There are many things incorrect with this label, and I would recommend keeping this photo handy as I predict we will see a lot of these in the future.
Here are some other fake Colt labels that I recently flagged and added to my library.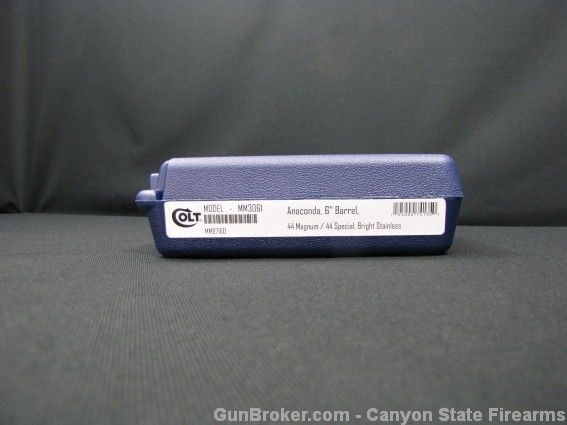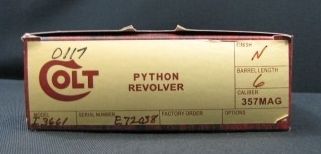 It has been about 3 years since these fake Colt packaging products flooding the market and I don't think they are any better today than they were then. If you are a "NIB" collector, first look for the label. More times than not, that is as far as you have to go.
*****