Backstory:
I asked my wife to make me a Colt Quilt over a year ago. I wrote to, called and received permission from Colt (in writing
) to have a one of a kind, not to be sold, family quilt utilizing Colt Logo(s) and other proprietary Colt images. Little did I know that a lot of what finally went into the quilt would be processes that my wife hadn't done before. Many, many months went into the layout, design, applique forms and calculations not to mention color preference and coordination. To say Mrs. MtnSpur went above and beyond is an understatement. Her mom, a quilter for over 60 years, helped tremendously and lent the use of her computerized long arm quilting machine that resides in her quilting shop to do the actual quilt stitch patterns (if that's the right term). It's made for a Super Queen Size bed but shown here on regular queen size. Without further ado or more nonsense from me I present "Rampant Stallion" prior to final binding and cleanup work.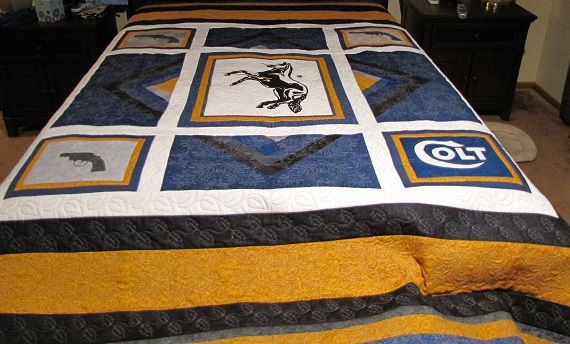 It's difficult to capture the attention to detail so I've added additional pictures to highlight the "tooled leather" style quilt stitch Mrs. MtnSpur used. Needs to be hung upright and photographed but that will happen after it's finished. My mother in law is going to display it at her shop for awhile.