Discussion Starter
·
#1
·
Weather moderated to the 40's allowing me to get to the range. Real pleased with the overall performance and feel of the Marine pistol. Fired about 130 rounds of WWB 230gr with no hiccups. To date, it is my most accurate 1911 relegating my flat-top enhanced pre XS Combat Commander (thats a mouthful) to second place. I own three other 1911's and consider myself a newbie learning more each day. (thanks Colt forum)
The target is a 5 1/2 inch splatter type placed at about 15 yards. This was my first time shooting this pistol. I shot offhand with the two 7 round Wilson Combat magazine. I have about 10 on target with a couple of flyers just north of the target. There is a tight group of 4 or 5 at the 11:00 position. I had already started to cover the misses with tape before I decided to take the picture. I have old eyes and am was very pleased with the overall accuracy. I also fired at 25 yds from a bench rest position and was pleased with the results.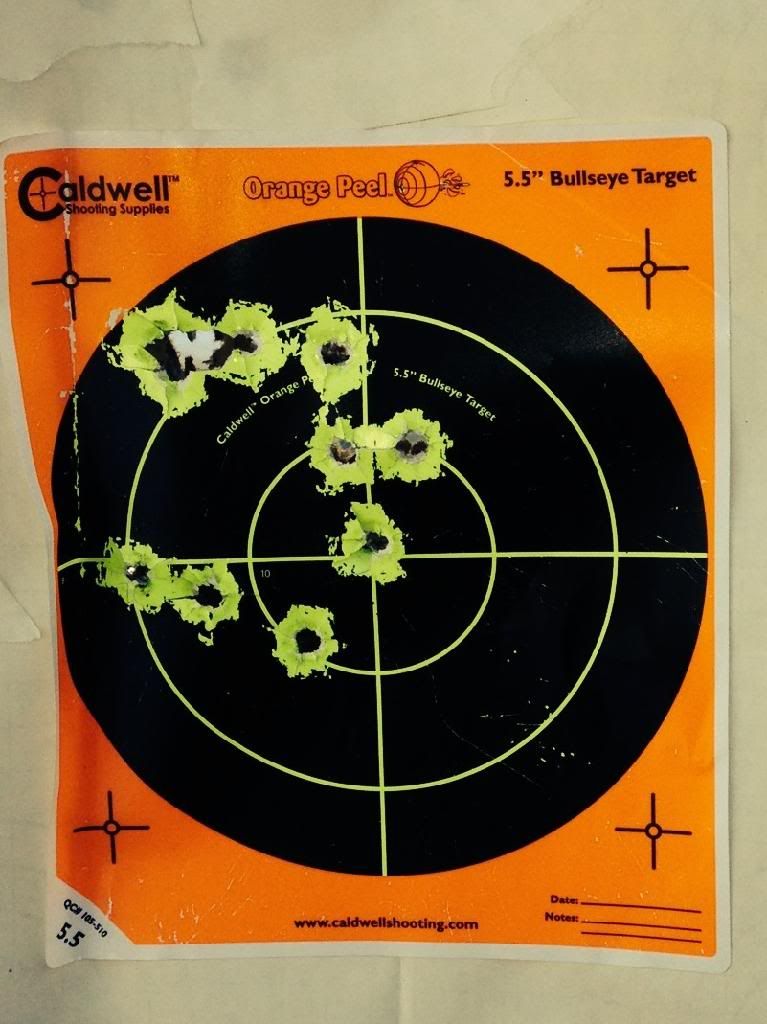 The forward area of the slide carboned up pretty good but came NIB clean after cleaning with Breakfree CLP. The pistol cleaned up very well. Other than some wear areas on the internals, slide, dustcover, lugs etc, the only area of the cerokote finish that wore off was the impact area of the hammer. All my 1911's are stainless so I believe that to be normal wear.
Impressed with the included Otis cleaning kit. Great for a quick cleaning of the bore. I used it on another pistol to try out. Great for the range or when you pressed for time. Slight learning curve with the patch system but when you figure it out it works well.
The night sights have added a new slant on boredom at night for me. Now when I'm bored or can't get to the range I'll open up the safe and rack a few slides, fondle and shine some pistols etc. Now when I'm bored at night I can grab this pistol from the safe and play wannabe RECON practicing with my night sights.
Life is good.