Discussion Starter
·
#1
·
I continue to mull over data concerning the Army's trials which ultimately led to the adoption of the M1911 pistol. I found this most interesting, from
Colt .45 Service Pistols,
by Charles Clawson:

"Colt submitted two automatic pistols and two revolvers for the Board to test. ...................................The first revolver was a standard length New Service Revolver, chambered to fire the short experimental revolver cartridge (F A 4 06). It could be modified to fire standard government ammunition without any change except boring out the chambers to fit the longer black powder cartridges. The second revolver was of the New Service design, but the cylinder was shortened about one-third inch to accommodate only the short experimental cartridges. The receiver was shortened by an amount equal to the shorter cylinder."
And a footnote was added:
The Colt revolver that was designed to fire the British New Service Cordite Cartridge, Caliber .455, became known as the Colt "New Service " Revolver, in reference to the English New Service Cartridge. On February 21, 1899, the name was registered with then U.S. Patent Office as a trademark of the Colt's Patent Firearms Mfg. Company."
And my recent duplication or the cartridge: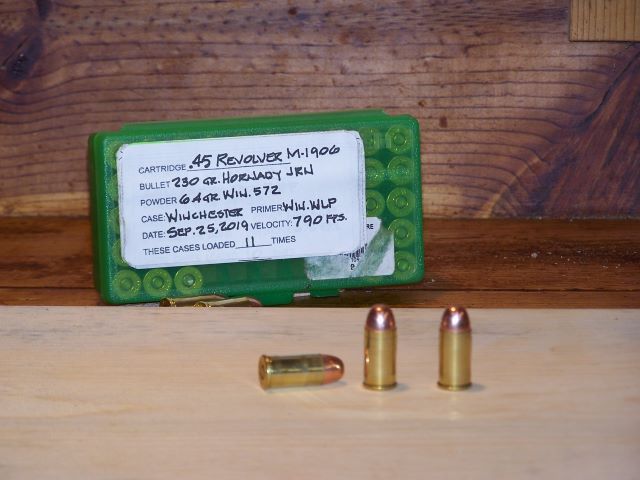 Bob Wright