Thanks to Ronald12, I got a very interesting set of Coltwood grips recently. Ron put me in contact with the seller, so without him it wouldn't have happened. Thanks Ron
Here's a set of early swirled Coltwood grips. Notice the thick reinforcing rib pattern and the sleeved slotted screw within a screw attaching hardware.
Here's a set of late Coltwood grips. This set is usually on my 1953 Detective Special. Note the thinner and different rib pattern and late screw and domed escutcheon hardware.
This is the set Ron connected me with. Notice that the although these Coltwoods are the older swirled pattern plastic formula, the reinforcing rib pattern is that of the later matte brown Coltwoods. These grips also came with the later type of screw with the domed escutcheon nut. (courtesy of D. Muir)
Keep in mind that later Coltwood grips were a matte uniform dark brown with no shine to the grips. The reason there is a bit of shine on my later Coltwood grips is that they are fairly worn. The swirled brown and colored transitional Coltwoods as shown on the 1953 DS have plenty of surface gloss, yet they were made in the later matte Coltwood grip mold, have the thinner 2nd pattern reinforcing ribs and the later domed escutcheon nut instead of the two sleeved slot head screws that the early Coltwoods had.
In a very nice Bucheimer crossdraw holster that Skysoldier was so kind as to give me - thanks, Cliff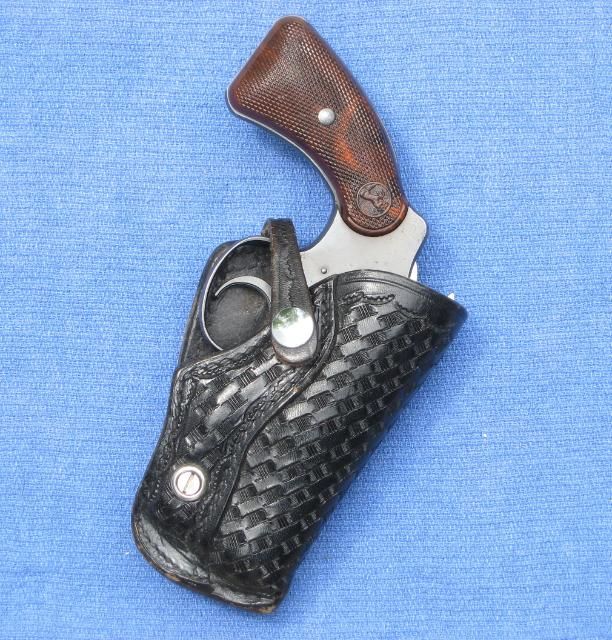 Some examples of typical late matte brown Coltwood grips on my guns
1953 DS with original matte Coltwood grips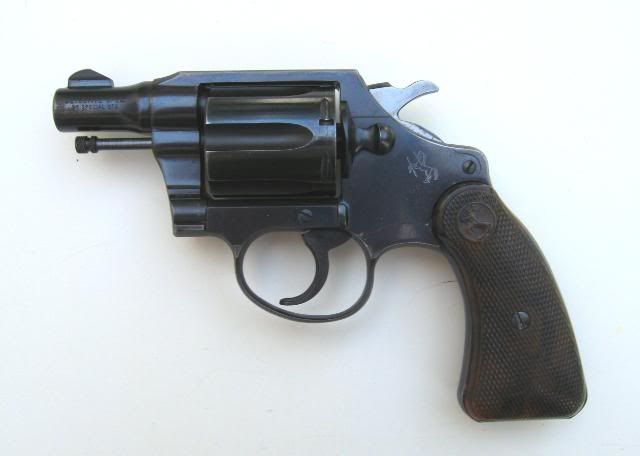 1952 DS in 32 Colt N.P. with matte Coltwood grips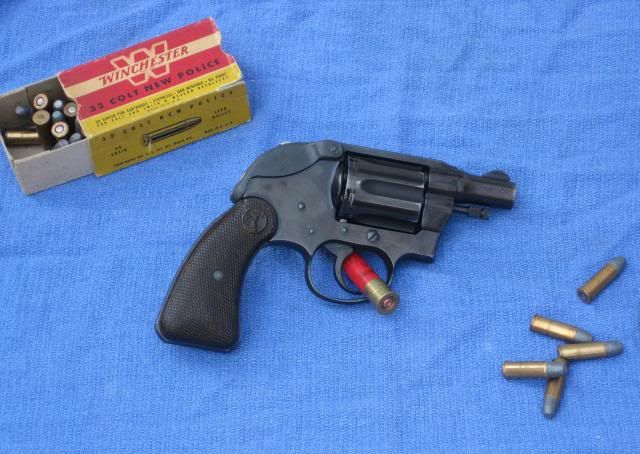 The 1953 DS 2nd pattern Coltwoods again
1953 DS and 1952 Cobra with matte brown Coltwood original grips
IMHO, this set constitutes "transitional" Coltwood grips. They are the older, earlier swirled and glossy plastic formula, but they were obviously cast in new moulds made for the matte brown 2nd pattern Coltwood grips, and they used the later Coltwood grips screw hardware.
I think these grips would only be found originally on some early 1950 guns, and not on many, at that. They are not period correct for my 1953 DS but for the time being I am enjoying using them on this gun. Eventually, I will probably put the correct set of matte brown Coltwoods back on the gun.
Any and all opinions are requested. Thanks for reading and looking.
Mike